Head Girl's Welcome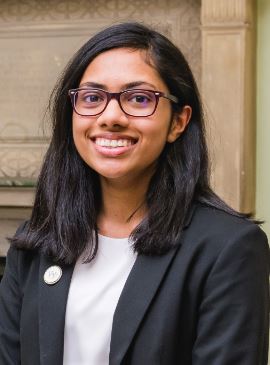 Hello and welcome to the Sixth Form at Woodford County High School.
One of the most striking characteristics of Woodford is its sense of community, something that is immediately noticeable upon joining the school. As a result of this, girls here are fully supported by both their peers and their teachers to become individuals who are sensitive, confident and have an awareness of the importance of interpersonal relationships.
Many believe that working hard is the only factor contributing to success, and whilst this is certainly an important factor, we at Woodford recognise the importance of creating a positive environment in which all students can reach their full potential. Our teachers are passionate about their subjects and strive to ensure that we, as students, gain not only subject knowledge, but a passion for what we are being taught.
Woodford girls are known for being ambitious and we are fortunate that our teachers work alongside us to help our ambitions be realised, enabling our alumni to leave here and go on to study at reputable universities worldwide.
As Sixth Form students, we are central to many of the school's events, and never short of opportunities to take up roles of responsibility. We act as role models to the younger girls and lead some of the many events found in the school's calendar. Whilst this may a daunting prospect, we as Sixth Formers are given an immense amount of support from our personal tutors and by our subject teachers. We are also afforded the chance to unwind and try out activities that we may not otherwise have had the opportunity to, thanks to the school's enrichment programme. We are encouraged to take up a different activity each half term, ranging from yoga and cooking, to rounders and computer science. In addition to this, we have a voluntary service programme which allows us to reach out into the community and better the lives of others, whilst taking a break from our studies.
It is often quipped that you can just tell if a student is 'Woodford girl', and while our white socks and stripy blouses certainly makes us stand out from the crowd in the lower years, it is the fact that girls at this school display a determined nature and exude kindness that makes us easily recognisable to visitors from other institutions. This is due to our school helping us to develop ambition and resourcefulness, whilst ensuring that we remain warm and respectful.
We would be delighted if you came in to see us during one of our many open mornings.
Vidya Head Girl 2018/2019