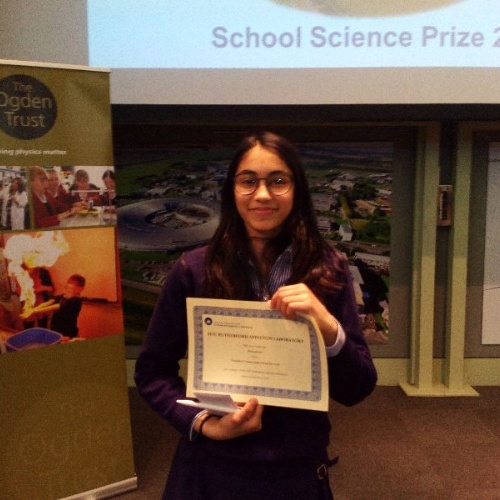 School Science Prizes for Woodford
The Science Department and the whole school wishes to congratulate Sarayu (9H) and Hannah (9W) for having been selected as finalists for the Rutherford Appleton Laboratory School Science Prize. Sarayu and Hannah wrote two captivating and enthusiastic essays exploring their love for Science, and out of more than a hundred applications this prestigious Physics Research Facility in Oxfordshire selected them among 15 finalists! Sarayu and Hannah visited the Laboratory for an evening celebration where they were able to meet the scientists and engineers, explore a series of demonstrations, activities and give a two minute presentation entitled 'Why I love science'.
A further surprise at the event was the announcement that Hannah had been awarded 2nd prize! Both girls were treated to a special behind-the-scenes tour inside one of their high-powered lasers, wearing clean suits and entering areas rarely seen by the public.