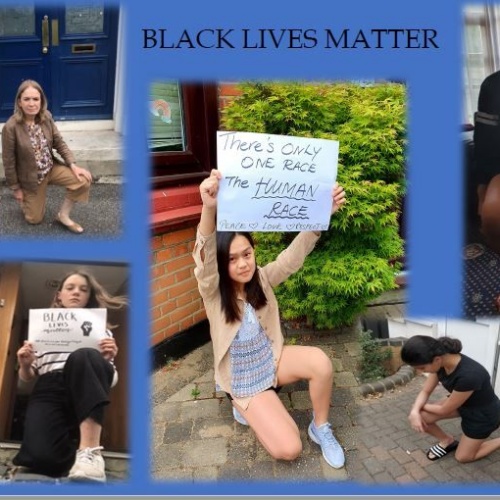 Wednesday 3 June 2020
WCHS stands in solidarity with victims of racism
Woodford County High School stands in solidarity with all those who are feeling pain and finding non-violent means to express anger and outrage about the brutal murder of George Floyd in Minneapolis last week. As a school, we stand in solidarity with black students, staff and families, and recommit to valuing diversity and to fighting inequality and inequity. We are proud of the courage and integrity of our students in exercising a right to make their voices heard.
We recognise the enormous emotional suffering, rage and the bewilderment engendered world-wide by George Floyd's death and by the attention it draws to wider inequality and injustice in Britain as elsewhere. We want to expand on opportunities to experience the kind of compassion that seeds increased respect for humanity. We will plan for further support, teaching and learning opportunities in relation to equality, diversity and inclusion, so we can all be actively anti-racist and speak out against racism in all forms.
In the short term:
We invite staff and students to #TakeTheKnee this evening at 6pm on their doorstep as part of the Stand Up to Racism campaign today (3 June). Today's campaign provides a safe way for those wishing to express solidarity to do so. It is still the case that large gatherings of people in organised demonstrations could pose a risk to health and indeed to life.
Individual students may wish to document participation with a photograph. We would like to use a few such photographs, if forthcoming, in further equalities work as mentioned above. Any photograph submitted may only be sent in by the student featured and must be accompanied by a short e-mail giving permission for the photograph to be used in ongoing WCHS work in this area. Any photographs of WCHS students 'taking the knee' should be submitted to taketheknee@woodford.redbridge.sch.uk
After discussion today with our Educational psychologist we will be seeking over the next couple of weeks to offer time and (virtual) space for sixth form students (in the first instance) to explore and express their feelings on the matter and to contribute to planning for positive action on the promotion of equality.
(Information about WCHS work hitherto to promote equality can be accessed on the Equalities Duty tab of the school website.)
Communities across the world are coming together in solidarity on this matter. Woodford students, parents and staff value the opportunity to do the same.
Ms Jo Pomeroy
Headteacher