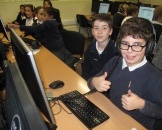 Churchfield Girls and Boys enjoy their Digital School House day at Woodford
Woodford has been designated the "Digital School House" for the London Borough of Redbridge. Our brief is to provide Inspirational Computing for Kids by supporting the development of the new curriculum in KS2. Throughout the year we will be welcoming Year 5 and 6 classes from schools throughout the Borough who will join us to explore computer programming through an imaginative range of games and activities. Our second young visitors, from Churchfield Primary, took the notion of algorithms in their stride as they explored the sequencing of instructions (through a large scale hokey cokey) before grappling with the programming language "Python" to write their first code.
If you would like to come along to a workshop or would like more information please contact us at: dsh@woodford.redbridge.sch.uk
A selection of photographs of Churchfield Primary Pupils who attended our workshops.