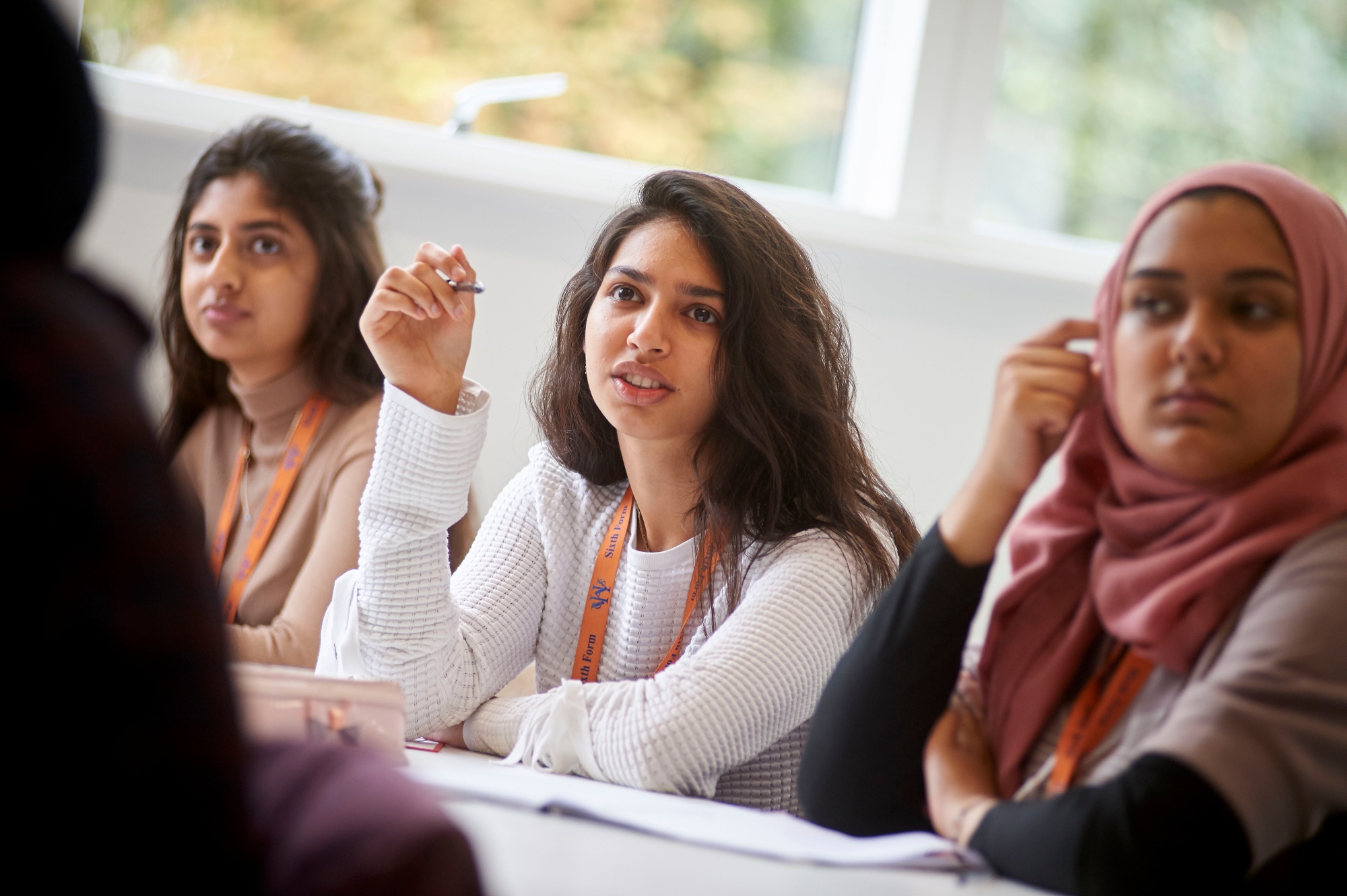 The Curriculum
As an academic school catering to a selective cohort, the vast majority of whom aspire to go to university, studying GCE 'A' Levels best fulfils our students' needs. We offer a wide range of A Levels across a variety of disciplines, all of which are taught by qualified subject specialists. Studying these courses offers the potential for our Sixth Form students to apply to and secure places at any higher education institution in the UK (and many abroad). Those who choose not to do so will still leave the Sixth Form with a set of high value qualifications.
The examined curriculum is supplemented with a variety of enrichment opportunities and all girls are expected to complete a term of voluntary service in the summer of Year 12.
Students starting their A level studies in September 2023 will sit their exams at the end of Year 13 (in 2025).
Pathways
The Pathways system has been devised to cater to the needs of individual students. Applicants to our Sixth Form will follow one of three Pathways during their two years of post-16 education:
Pathway 1
Three A Levels, plus the Extended Project Qualification (EPQ). This course will be completed in Year 12. The majority of Sixth Form students follow this Pathway. We value highly the EPQ because of its academic rigour and the independent learning skills it develops.
Pathway 2
This Pathway will only be identified once GCSE results are received and will be done so on a case by case basis. Some students who achieve the lower end capped average points score of our general entry requirements will be advised to follow a three A Level only programme. In that way they can focus on achieving good grades in these subjects. Students following this Pathway will be allocated to Supported Study sessions, where they will receive subject support as well as undertake courses to help them to gain Study Skills and to assist with preparation for Higher Education.
Pathway 3
Four A Levels. All four A Level applicants will require an average capped points score of 8, with the exception of applicants wishing to study A Level Further Mathematics, who will need to have GCSE grade 8 or 9 in Mathematics and an average point score of at least 7.3. Only students with high academic prior attainment and excellent time management skills should consider taking four A Levels.
---
Applicants for the Sixth Form will indicate which Pathway they prefer to follow on the application form. This choice will then be discussed with them to ensure it is the most appropriate one for them given their individual circumstances.
How Many A Levels Should I Study?
The vast majority of degree courses require three A Levels. No universities require four A Levels and there is no advantage in taking four A Levels when applying to university, with the exception of those who wish to study Further Mathematics. A Level study is very demanding and those candidates who achieve three strong A Level grades are at an advantage compared to those who achieve four slightly weaker ones.
The strongest students may still wish to study four A Levels and we seek to accommodate this where appropriate, but they must consider this carefully before making their final option choices and we would strongly recommend they discuss it with either Ms Hasler (Head of Sixth Form) or Mr Jenkins (Deputy Headteacher) beforehand.
Advice/Guidance
Make sure you talk to your teachers about whether you are suited to the A Level courses you want to take. You need to choose the best combination of subjects which will give breadth to your studies and support your career plans.
Students hoping to apply for a place on a particular degree course after A Level are advised to choose courses in those subjects currently required by universities. Most universities now have lists of Preferred Subjects for each of their courses. This is particularly important if you are thinking about studying subjects like Mathematics and Engineering, as several of the top universities now require Further Mathematics as well as Mathematics at A Level. You will find this information on university websites.