Head Girl's Welcome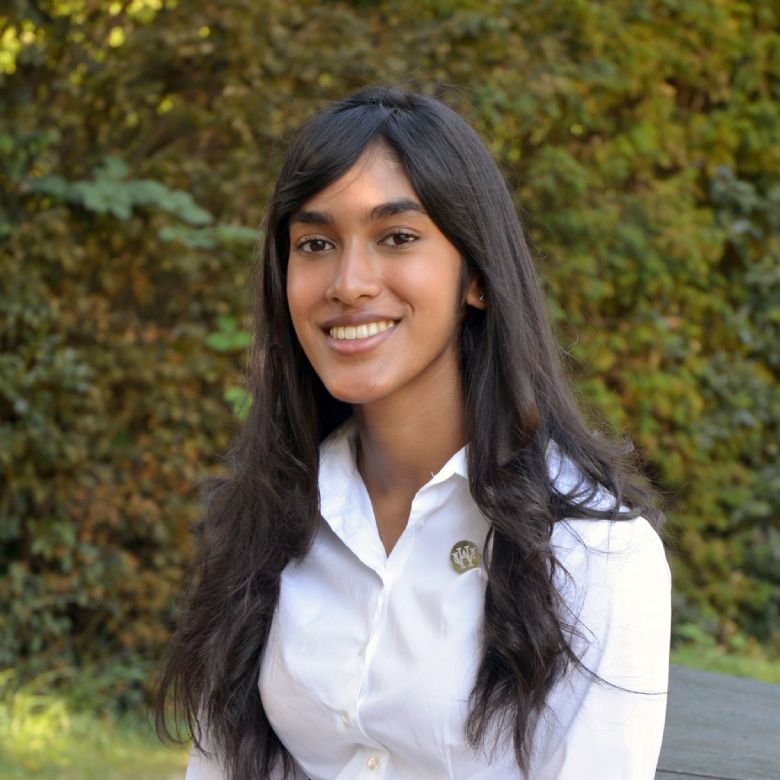 Hello, my name is Zara Chowdhury, and I am delighted to welcome you to Woodford County High School.
Here at Woodford, the student experience is characterised by a vibrant and inclusive environment in which we are encouraged to strive for the very best. Throughout my years at the school, I have wholeheartedly enjoyed every moment, and the teaching experience at Woodford is truly second to none.
Whether your passions lie in STEM, languages, the arts, humanities, or PE, during your time at Woodford you will be surrounded by enthusiastic and devoted teaching staff providing you with every opportunity to fulfil your potential. You can expect lessons to be filled with dynamic discussions, innovative methodologies and technology, and a palpable sense of love for the subject.
Curiosity is one of the most valuable traits of a Woodford student, and this is reflected in the teaching body's attitudes to answering any and all questions, ensuring students are comfortable in lessons and perform to their maximum potential. This can come in the form of a host of drop-in sessions and one to one discussions complemented by the multitude of resources made available to students, such as academic articles and leading external programmes.
In preparing students for life beyond secondary school, Woodford provides a dual approach. Not only is expert guidance and help offered for students exploring post-18 opportunities, ranging from UCAS applications to apprenticeships, specialist colleges and careers lectures, but throughout your time at Woodford emphasis is also placed on building key transferrable skills necessary for success at school, in employment, and beyond. Such a welcoming and inspirational environment enables students to develop major life skills such as independence and confidence with a range of leadership opportunities available throughout the school. This includes making a real impact in the School Council, Equalities Forum, Sixth Form Silver Badge Team, running societies and much more. Here at Woodford, the student experience is the main priority, and your voice is incredibly valued.
Beyond the academic sphere, the plethora of opportunities and events that make up the 'Woodford spirit' is one of the school's best and most unique attributes. The communal sentiment within the student body is profound and there are plenty of opportunities to let your hair down and have some fun! Whilst progressive and diverse, the school still retains many enjoyable traditions such as School Birthday celebrations, the Five Penny Race, and a student favourite – House Drama. At Woodford we know that academia is not the only area of life, and pursuits in physical education, music and art are encouraged and applauded, with frequent celebratory events such as Cups and Colours and the Summer Showcase. Individuality is strongly supported by the school, whether this be through the artistic license of students organising House Drama or the ability to run student organised societies such as Model UN and Amnesty International. Further, community is an intrinsic value to Woodford, with the school continuously raising money for local charities such as Haven House.
In terms of the facilities available, the school offers a blend of stunning traditional architecture with the main building and its twisty passages, to the modern, state-of-the-art centenary centre and its laboratories. The innovation lab is a hub of student inventiveness, music rooms are stocked full of equipment and the school boasts exceptional sports facilities including multiple netball courts, a gym, and the athletics field. The school grounds are truly beautiful, and you can always find a moment of bliss in the Greek amphitheatre – though it often gets busy on Busking Thursdays!
Combining fun, academic rigour and prowess, an inclusive and empowering environment, and amazing facilities, you will most certainly value your time at Woodford for years to come! Rest assured you will leave the school with an incredible set of exam results and invaluable memories, having been shaped into a versatile and accomplished individual.