Woodford County High School For Girls Celebrates 104th Birthday!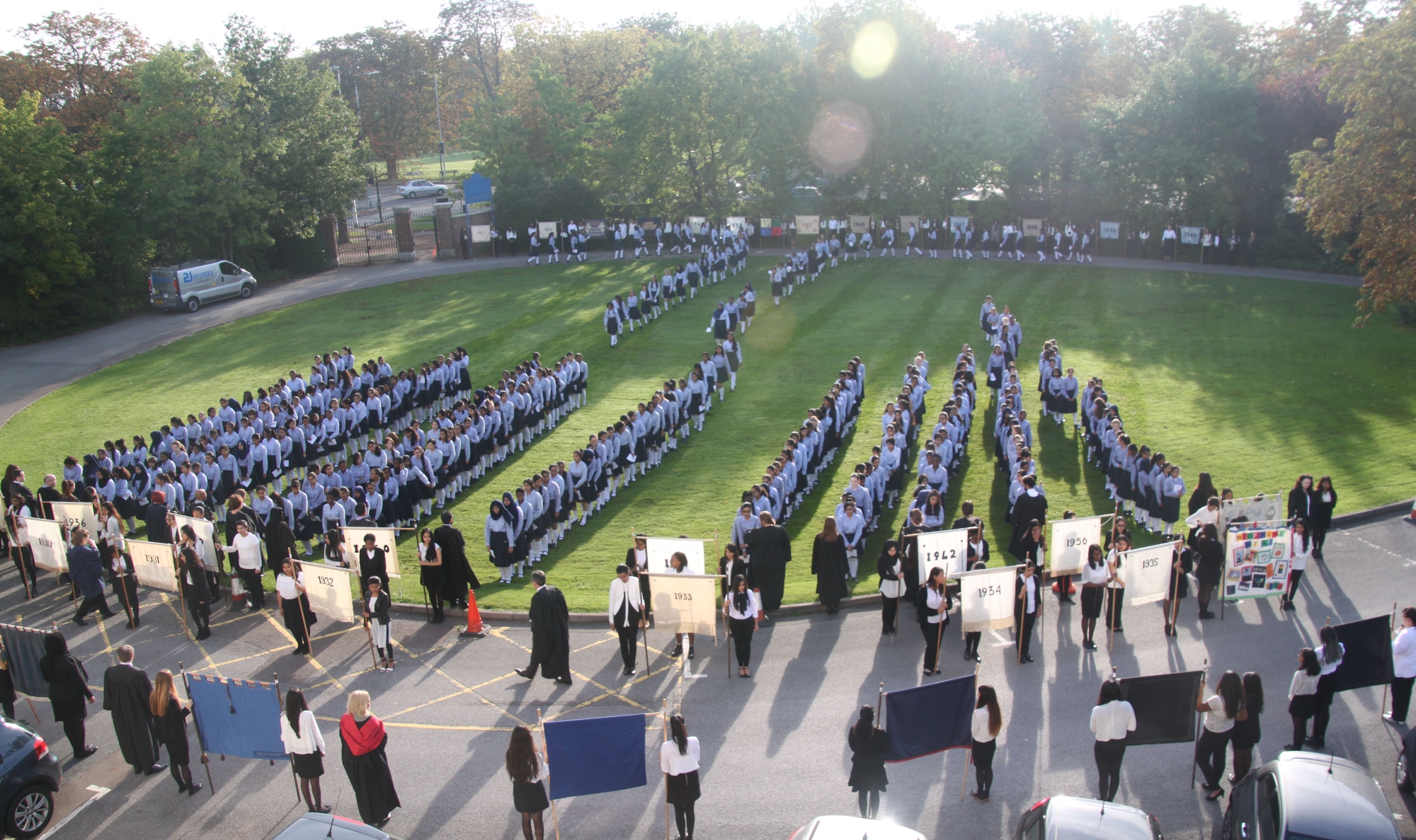 Woodford County High School for Girls celebrated its 104th birthday on Friday 29th September 2023. This unique event has been celebrated for numerous years and still preserves important elements of Woodford culture within it. This connects the school and its pupils with their predecessors over the years. This traditional celebration was initially instigated by the school's first head mistress, Miss. Gordon. The traditional service taking place in 1900's in the main hall. The day kick-starts with the parade. This involves the entire lower part of the school (years 7-11) and year 13 students. The students are arranged into neat lines and parade along the well-preserved front lawn of the school. Meanwhile the senior students parade banners representing each era and house.
This process take place in a very orderly manner with younger students smartly dressed in school uniform which includes the signature blue and white striped shirt, meanwhile the senior students are formally dressed in black and white. The parade then leads the students into the main assembly hall where the service is conducted. The ceremony consists of several songs and speeches made by members of staff including Ms. Pomeroy, the head teacher. The service and parade both hold historical value which has been well preserved over many years including the school song: 'Forty Years On'. Following the service and banner parade, each year group is assigned to an activity. This can range from bowling to the recycling fashion show and from Murder Mystery to Thriftwood outdoor activity centre. The event is described by Ms. Pomeroy as 'unique' and "balancing tradition on the one hand with innovation on the other". So the tradition is obvious in the banner parade and the service which uses elements which have been used for decades. Also the innovation: we do different things each year. So it's keeping tradition and innovation in balance and it's keeping formality and informality in balance because the parade and the service are our most formal events of the year. Girls in uniform have to wear long sleeve shirts and not jumpers. We don't get any more formal than that but equally once we have done our duty and done those things properly and upheld the tradition then the rest of the day is far less formal.' Students can also get in the spirit of this important day by entering the cake competition in which they can bake a cake, whether it is a novelty cake or a school themed cake, and put it forward to the judging panel then have the joy of sharing it with classmates.
This enables the school to come together and commemorate the day. This event is also cherished by many members of the alumni, most commonly referred to as 'Old Girls', who reunite on the day and join the celebrations, giving them an opportunity to catch-up with friends and reminisce old memories.
Samantha 12 KH
| | |
| --- | --- |
| 1964 | 2015 |