Why Study Art and Design?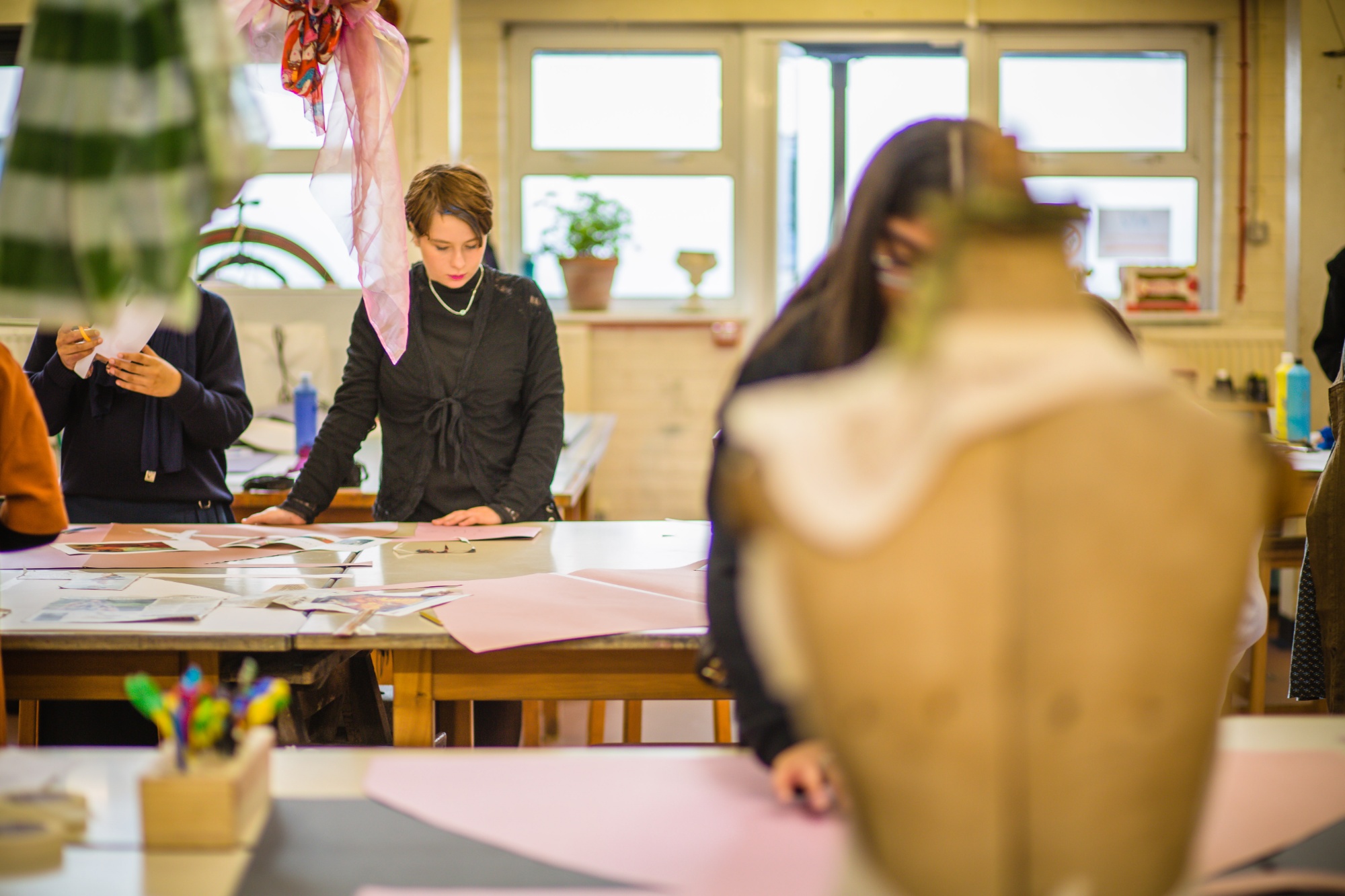 Whilst Art provides a worthwhile educational experience in itself, it also equips students with the tools to tackle and solve problems, to think critically and confidently, to express opinions. These are all expectations that a UK employer is looking for and that the art curriculum at Woodford encompasses, whilst offering a wealth of opportunities for the future.
We believe in providing students with a wide Art curriculum, offered together with an extensive range of enrichment activities. Making acts of imagination come to life takes skill, knowledge, flair, dedication, organisation and courage. Visualising, interpreting and making are really powerful ways in which Woodford students can express ideas, solve problems and shape their world.
At all key stages, students of Art are encouraged to think about and address ethical, moral, cultural and social issues in their work. Art is a fundamental part of the cultural heritage of every student and, as such, enhances quality of life for the individual. Art brings joy, enrichment and fulfilment to students here. The subject allows students to acquire the tools and knowledge necessary to create individual responses to a variety of issues. An ability to express oneself through Art is essential, not only in understanding life, but in living it fully.
ART at KS3:
Click here to view our ART GALLERY
The Art Department has tailored a balanced and broad curriculum of studies that encompasses a range of projects within a thematic approach. The pupils will take on a new topic every year that will be divided into sub projects, allowing them to work practically in different disciplines, which include drawing, painting, printmaking, sculpture, digital and textile. Different drawing strategies will be used as a starting point for pupils to engage with new topics and their ideas. Pupils are exposed to a broad range of exciting artists and craftspeople (traditional and contemporary) to enable them to make connections between their own work and that of others.
Pupils are encouraged to develop their visual skills while being taught in some fun and challenging lessons. They will be encouraged to flourish, to become confident, to learn to present their work and to take risks in order to develop their ideas and understanding of new materials and processes. Their art teachers value their contributions, whatever the area of expertise they have to offer.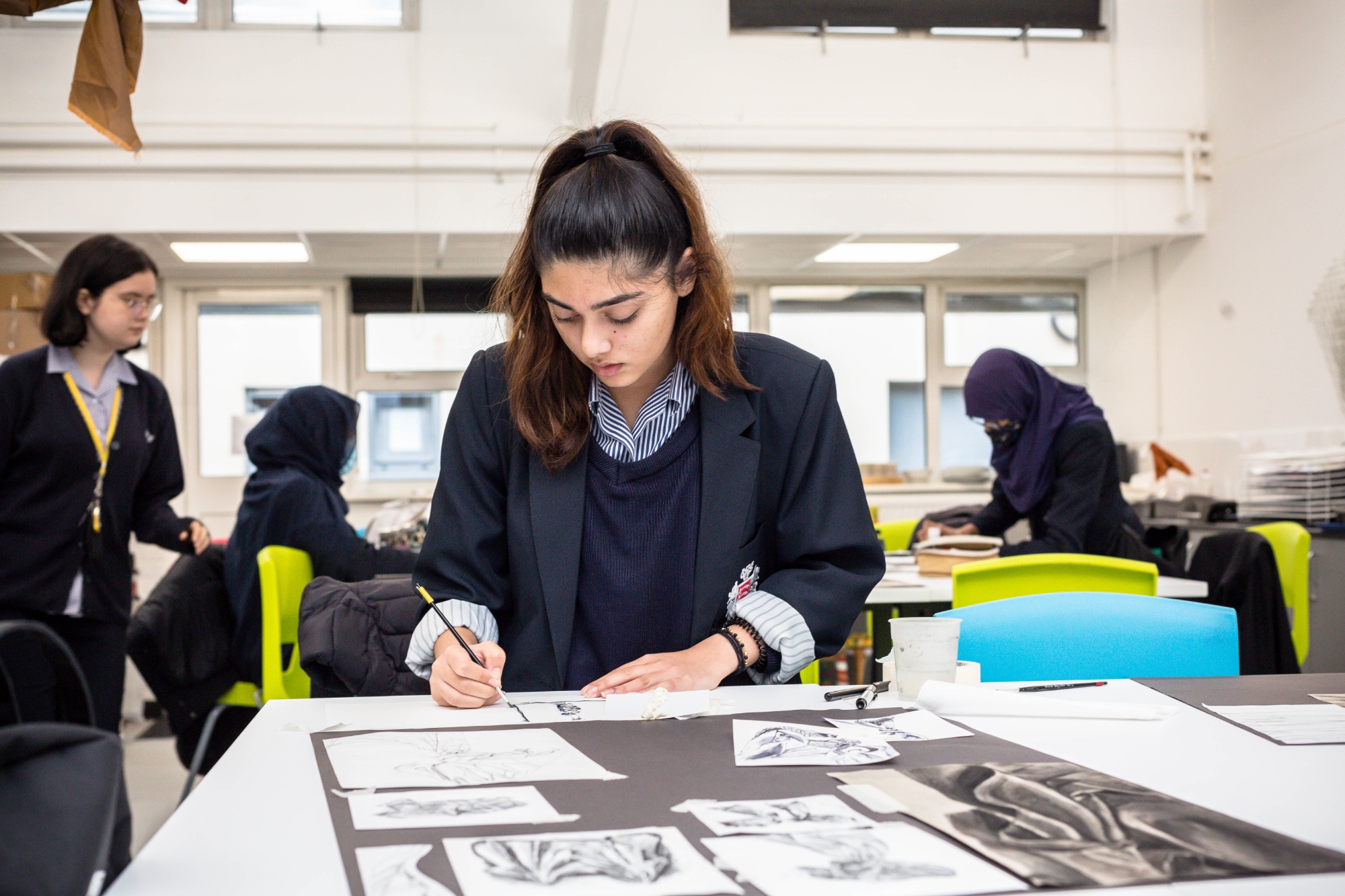 ART at KS4 (Art & Design (Fine Art), EDEXCEL):
Click here to view our ART GALLERY
At GCSE, the Department is strongly committed to offering an innovative approach to making art through projects that involve both traditional and experimental exploration of materials and concepts. The challenge set by the Art GCSE course requires the students to develop key skills such as creativity, imagination, problem solving, cultural awareness, communication and knowledge - all skills that are useful in both employment and continued study at A Level. Art is an excellent option that provides balance with core subjects.
Within GCSE Art and Design (coursework 60% of the final grade, exam 40% of the final grade) students will be encouraged:
To explore ideas & concepts behind the work, when working and specialising in drawing, painting, printmaking, ceramic, textile and digital photography.
To visit galleries and exhibitions, enabling students to learn from the work of others and making connection with their own work and past/contemporary practices.
To show progress through a variety of outcomes and supporting studies. The latest could be in the shape of sketchbooks, notebooks, worksheets, maquettes….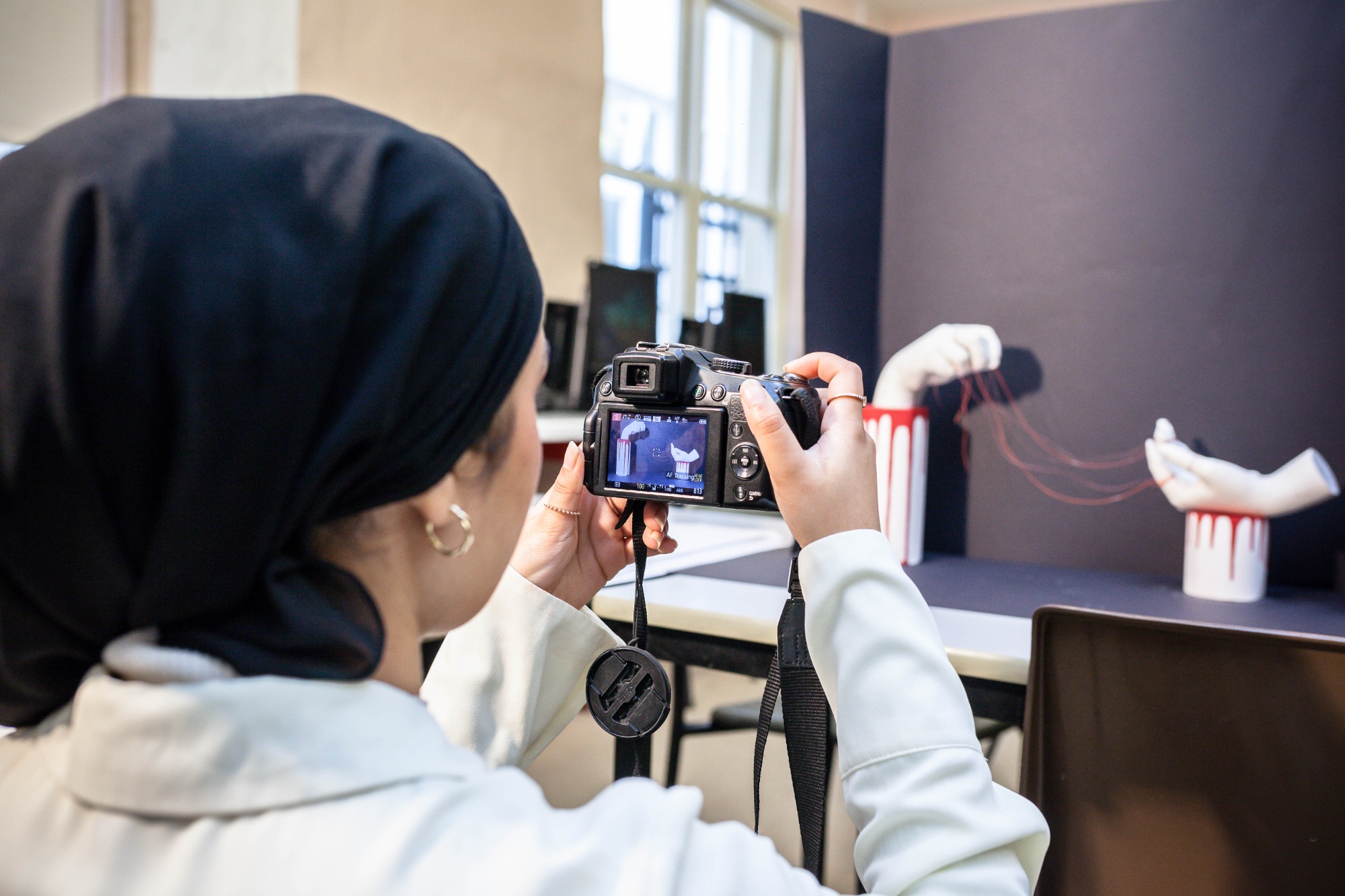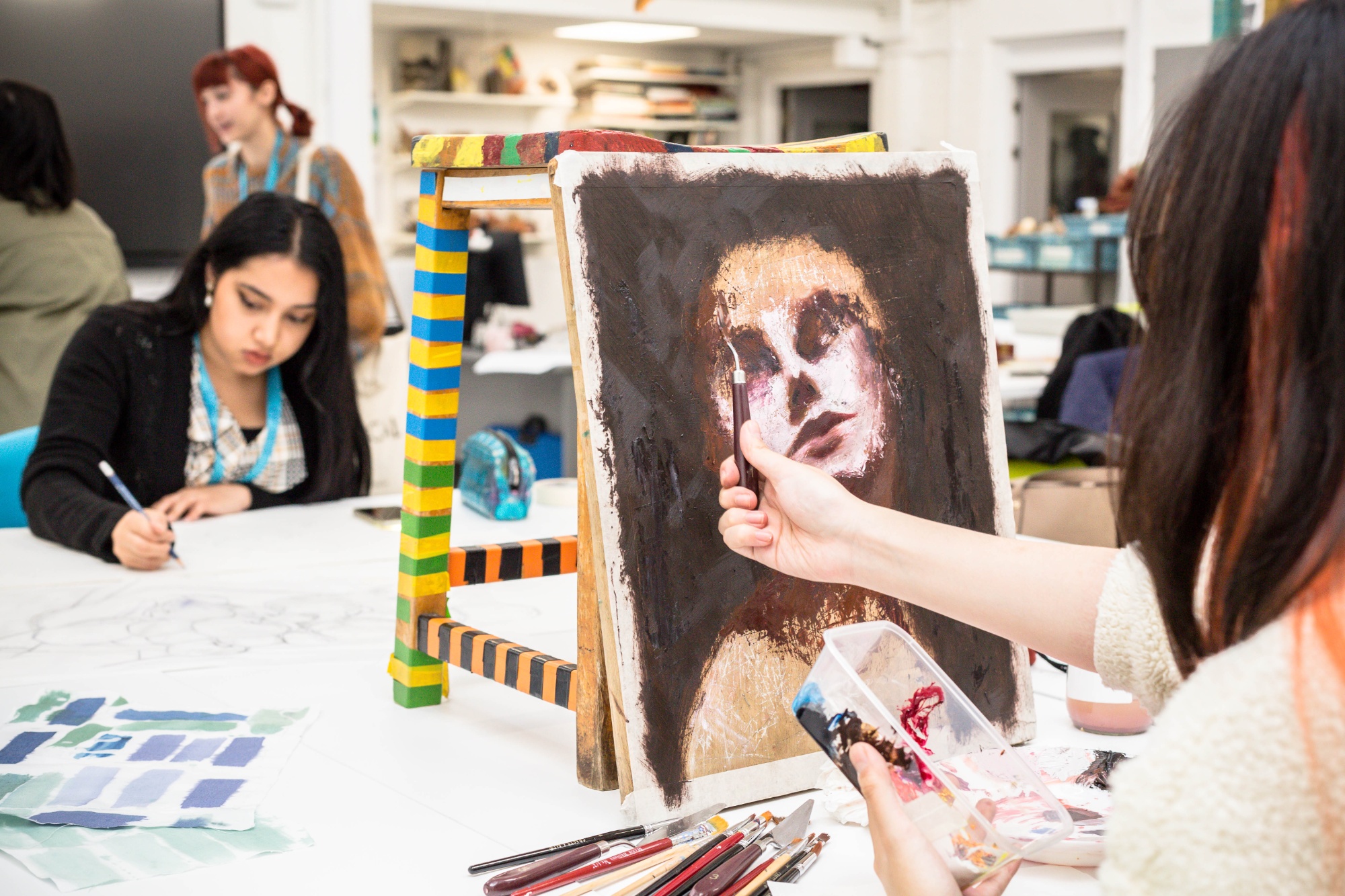 | Mixed Media by Kasturi | Collage | Mixed Media |
| --- | --- | --- |
| | | |
| Watercolour of a Woodford girl by Gemma | The Suffragette by Anjum Ali | Monoprint of Woodford |
| | | |
ART at KS5 (Art & Design (Fine Art), EDEXCEL):
Click here to view our ART GALLERY
The two year course is, in many ways similar to that of GCSE, with students producing a personal portfolio that represents 60% of their final grade and taking an exam (40% of their final grade).
Students will study a wide range of ideas showing sequential thinking but also taking imaginative leaps at appropriate times.
They will research a diverse range of others' work, conveying ideas and meaning.
They will conduct authoritative enquiry and evaluation to express emerging independent judgements, showing critical and perceptive analysis and an understanding of the more complex issues involved.
Students will explore media and processes in a diverse range of experiments; understand the limitations and potential of materials through extending and refining studies; willingness to take risks and a sense of discovery.
They will use a wide range of communication techniques; visual language skills to build assured manipulation of the formal elements, both functionally and aesthetically; in depth knowledge and independently analyse and interpret research to generate personal ideas and sophisticated concepts.
And finally will produce skilful outcomes that show work is intuitive, imaginative, exciting and original; demonstrate a consistent level of knowledge, skill and understanding. Work will have a personal identity and will be subtle and sensitive from conception to realisation.
| | | |
| --- | --- | --- |
| Porcelain Sculpture by Dominique | Painting by Caitlin | Life drawing by Abida |
| | |
| --- | --- |
| Lino Cut landscape by Paavan | Oil Painting by Maria |
ENRICHMENT
The Art Department organises a gallery visit at Key Stage 3. In 2015, Year 9 art pupils visited Tate Britain.
Students will have the opportunity to visit galleries, and attend exhibitions at Key Stages 4 and 5.
We work closely with galleries such as the William Morris Gallery and students are able to attend workshops to learn from the work of others and make connections with their own work and past/contemporary practices. In 2016, A Level students attended an architectural workshop with Jeannette Barnes on top of the "walkie talkie" building.
As well as taking students out, we bring the arts in and we have been privileged to host visiting artists in the department.
All GCSE and A Level students are encouraged to attend open studio sessions after school, lunch time and during their free periods to refine and further their studies.
At A Level, each student is encouraged to make independent visits to galleries and exhibitions specific to their current projects. Life drawing is also offered and highly recommended as an important strand in portfolio preparation.
A Level Art students will have an insight into curating when organising the "Annual Show Case", celebrating the arts across the school.
Cultural art trips are organised regularly and offered to students at GCSE and A Level. In 2014, students attended an artistic field trip in Seven Sisters and in 2015 they went to Berlin.
Extracurricular activities run on a regular basis in the department and provide students with opportunities to extend their knowledge and engage in ambitious practice on a variety of scales. For example, we play an important part in celebrating the school birthday.
School Birthday Activities: 2014

School Birthday Activities: 2015

Photography

Drawing The London Skyline

Workshop with artist Jeanette Barnes

Girls Visit The Tate Gallery
Future pathway:
Art also provides the opening for further study in the subject. You can continue onto A Level and then onto a number of degree courses such as architecture, advertising and the media. Remember:
"…The creative industries are the capital's second largest sector and contribute around £20 billion to the economy and employ nearly 400 thousand people…."
Valerie Dresden, Head of Creative Industries.
We have established strong links with the Princess Drawing Foundation Course which offers courses on the weekend and free workshops. Students have gone on from school to study a number of disciplines including Animation, Graphics, Photography, Architecture and Fine Art, as well as pursuing careers in the media. Several our students recently have progressed to prestigious competitive institutions like The Bartlett School of Architecture, Central St Martin's, Slade, London College of Communication, Cambridge University, and Camberwell and Chelsea Schools of Art.