Why study Computing?
Living in the digital age, Computing is an essential part of a well-rounded academic education. The subject offers excellent opportunities for true creativity and innovativeness. From understanding current trends in computing, programming in text based languages to developing Mobile Apps, calculating in binary and creating 3D Models, Computing draws upon and develops a range of logical, creative, mathematical and scientific skills needed for everyday life.
Computing is an integral part of our school curriculum and is taught not simply so that students obtain a valuable qualification but also to enable them to acquire a set of skills for employment, for everyday life and for leisure in the future.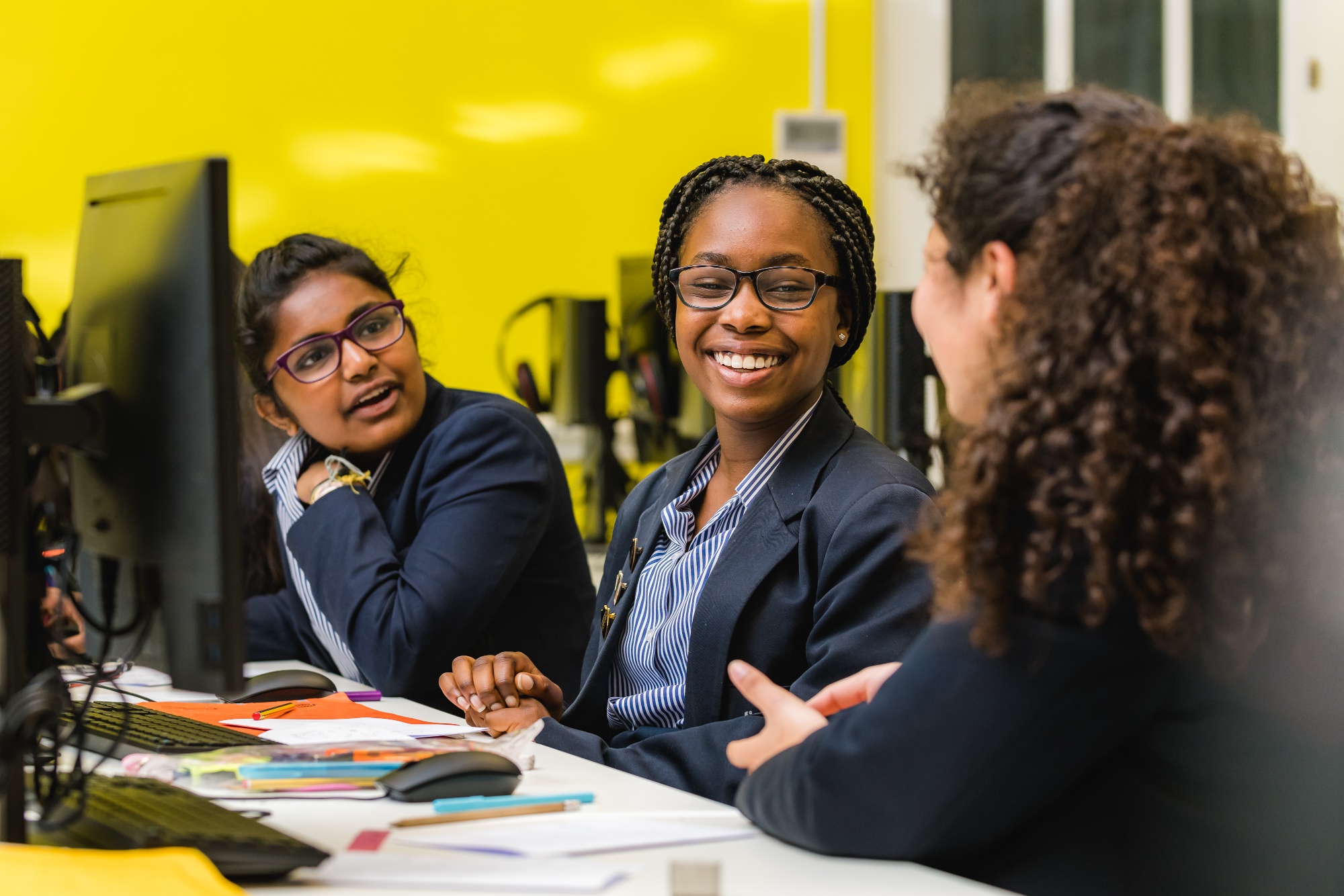 What is taught in KS3?
Computing is a discrete subject at Key Stage Three. The programme of study is updated frequently to keep pace with the latest developments in hardware, software, programming languages and trends. Two of the IT suites are set aside for these lessons. The department also delivers practical lessons making use of other creative devices such as Arduinos, 3D Doodlers, Makey Makeys etc. and these lessons are usually delivered in the school's conference centre. Other Departments, who take responsibility for developing and applying the skills pertinent to their own subject, have access to further IT suites. All classrooms are equipped with a PC and an increasing number have a cluster of machines available for use in lessons.
Our department has a long history of exceptional examination results. Previously Year 9 students had taken examinations for OCR ICT Functional Skills levels 1 & 2. In line with the change in the curriculum, all Year 9 students are now entered for the OCR Entry Level Computing qualification which is completed in the Autumn and Spring term.
To support students in their homework and extended study we advise on a number of useful websites which support the development of practical and programming skills and understanding theory. Lesson resources are also available in the Computing room on Fronter (our Managed Learning Environment). Fronter enables greater personalisation of the curriculum and increases the availability of resources, enabling a student – at home or at school - to catch up on work missed or to reinforce their knowledge through extension work.
Students are given the opportunity to work individually and collaboratively to achieve their goals in all of the Units.
Girls are extended in each area of the Computing Curriculum so that they reach their full potential. An extensive range of software is available in school including; Microsoft Office Suite, Python Shell, Scratch, Kodu, Sonic Pi, Arduino, Adobe CS4, Matchware Mediator9, Photoshop, Flowol, Audacity, and Ulead VideoStudio10. There is ample scope for exploration of different tools and methods of working. In addition to this, the department also makes use of online learning environments such as Codecademy, Khan Academy, AppsForGood and many others.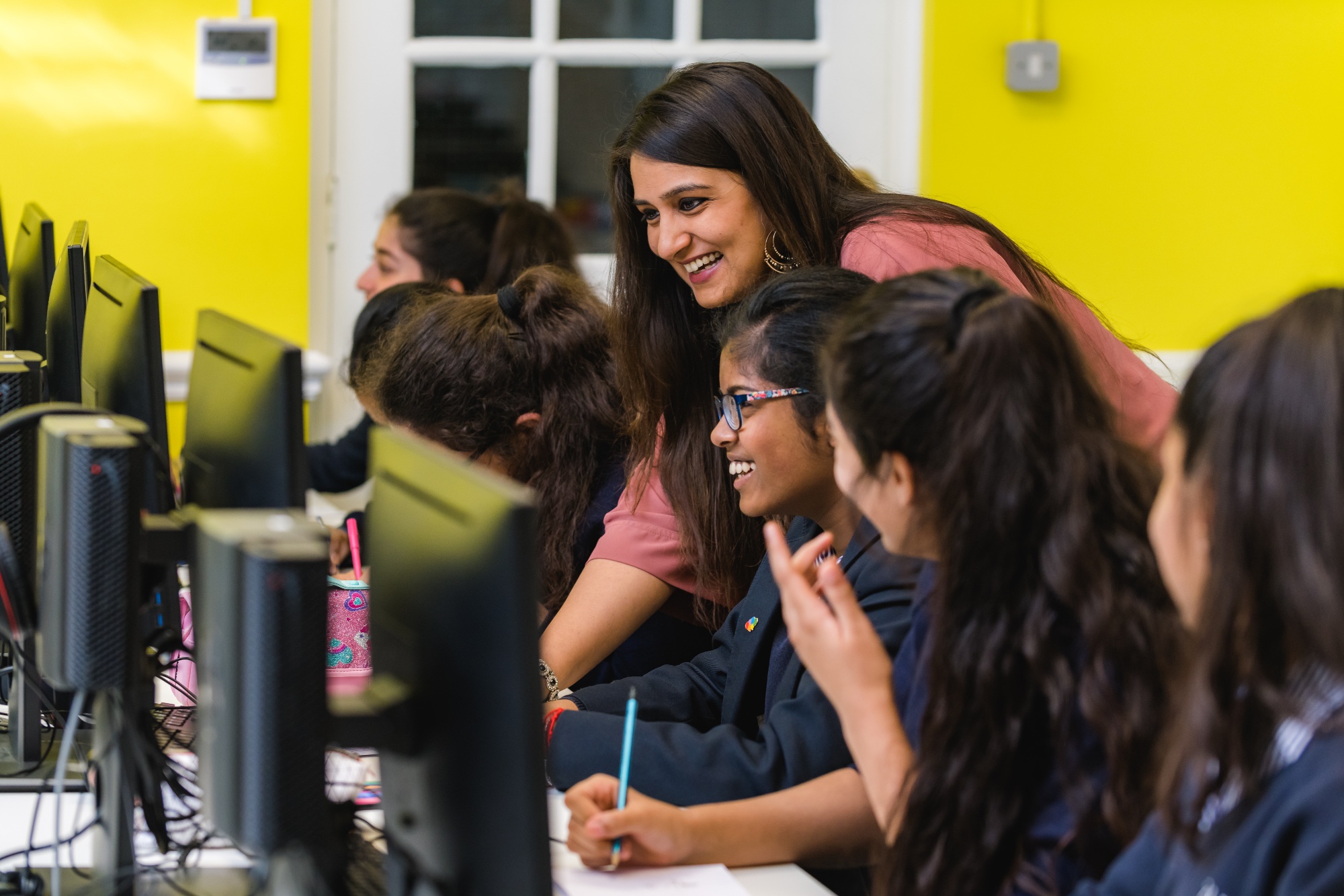 Year 7 learn to:
selectively access the Internet as an effective research tool
use email appropriately and professionally
understand and apply the principles of e-safety within current trending matters
understand computational logic and be able to apply the concept
work with planning algorithms using various methods
plan, design and create a program using a visual programming software
work with data modelling with a real-life problem scenario
explore the fundamentals of Input, Storage and Output devices
practically assemble computer hardware
install computer software
research the latest trends in the current technology market
plan, design and create a program using a textual programming software on the Raspberry Pi
Year 8 students:
explore and understand the functioning of Computer Networks
discover how the world wide web works
practically identify and disassemble and reassemble the internal components of a PC
understand the health and safety issues when working with Computers
use python programming to operate a motor kit
develop an App through working with people from industry
understand algorithms and computer logic in depth
apply their computational thinking to creating a game using Arduino Gamers
understand Human Computer Interaction concepts
learn and use HTML syntax to create their own website
implement a working database on a given scenario
Year 9 students:
learn about internal and external Hardware components
explore various peripherals and their functions
discover the latest hardware developments
learn about the functionality of an operating system
determine types of application and utility software and their uses
how to work with can calculate binary numbers
understand logic gates and sequencing
plan, design and create a program in Python based on a given task
research a current trend in Computing and present their findings
learn about various networks used in various environments
plan and develop their own network using 3D printing
plan, design and implement a simple game using Arduino Gamer Kits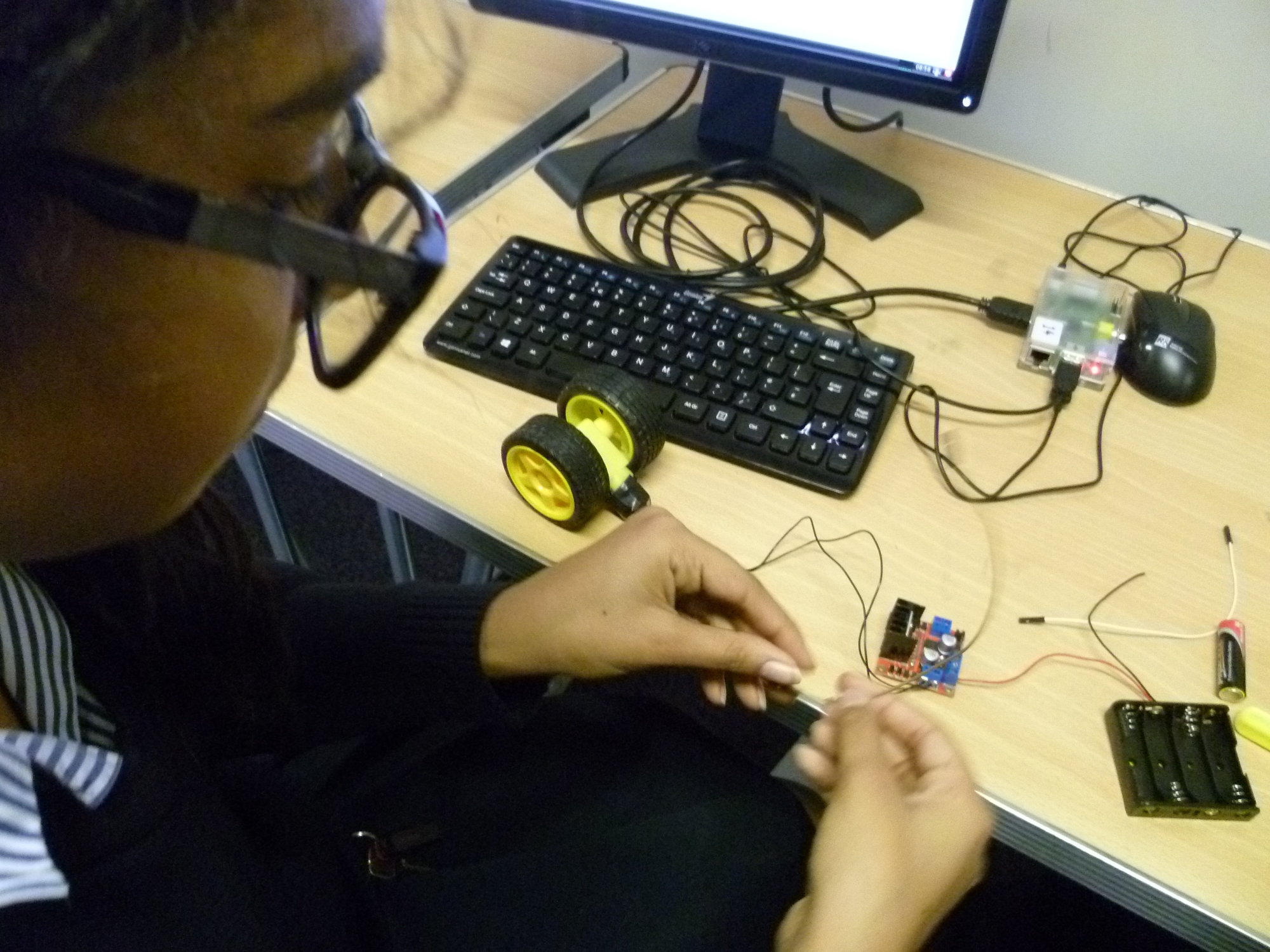 Enrichment activities
IT suites are supervised during lunchtimes and for homework after school giving pupils additional opportunities to consolidate their IT skills and to develop their involvement in all curricular and extra curricula areas. The use of computers should be stimulating and motivating and at Woodford IT is presented as a creative, innovative and fascinating way in which students can express themselves and draw on their own initiative and imagination as well as exploiting their own reasoning and investigative skills.
The department offers enrichment sessions to KS5 students where they are given the opportunity to develop basic computing skills and experiment with some of the latest trends in creative hardware such as 3D printing with 3D Doodler, hand held games with Arduino gaming kits, inputs and outputs with Makey Makeys and many more.
The students are given the opportunity to participate in a number of organised events/ education visits. Below are just a few:
Year 8 visit to The National Museum of Computing at Bletchley Park
Stemette's inspirational visit to Accenture's head quarters
Apps for Good competition
Year 9 British Interactive Media Association annual Digital –Day
Stemette and Decoded inspirational talk
Hour of Code week
| | |
| --- | --- |
| Girls visit Bletchley Park | Bima Day​ |
​