Sixth Form Super-Curricular and Career Opportunities
Our students often comment on the range of opportunities and events made available to them and organised by the Sixth Form team. Our carefully chosen Super-curricular and extra-curricular activities enhance our students' chances of entry into highly competitive degree courses. We emphasise the need for students to participate in these activities in order to build a strong individual profile.
Extra-Curricular Activities such as music, sport and drama are activities that fall outside the normal curriculum of school education. They add to a student's general Sixth Form experience and provide opportunities for them to both participate in and lead a variety of clubs and charitable events.
Super-Curricular Activities are activities that go beyond the curriculum but are still very much linked to an academic subject. Super-curricular activities such as taster courses, masterclasses and relevant work experience, help our students to find out more about a particular degree or career path and above all help them to stand out from the crowd by giving them an opportunity to show a genuine interest and passion for the subject they want to do at university.
We are aware of the importance of these activities in producing well-rounded university applicants and offer our students the opportunity to participate in a wide range of events and workshops.
Here is just a taste of what our Sixth Formers have taken part in recently:-
Specialised Subject Masterclasses, Conferences & Workshops
Specialised Subject Masterclasses at Oxford and Cambridge including Law, Natural Sciences, Engineering, Physics, HSPS, Classics, Psychology, Statistics and English.Oxbridge admissions staff visited the school to speak to Y12 and parents, with student were invited to a further presentation at a neighbouring school.

DNA Workshop at Imperial

Medicine Matters – conference at Bancroft's school

Intensive Medicine Course – free workshop in central London

Medical Careers Day 'So you want to be a doctor?' at the Royal Society of Medicine

Medway School of Pharmacy in-house presentation

Oxford and Cambridge Law conferences

A wide range of conferences and opportunities offered through our partnership with Pure Potential

Diana Foundation 'Inspire' Day at Canary Wharf

Taylor Wessing Insight Day

Morgan Stanley 'Step In, Step Up' programme
competitions
Newnham, Peterhouse and Christ's College Essay Competitions: Philosophy, History, Classics, Politics

Winners of 3 Mark Evison Awards – pantomime for Haven House Children's Hospice, cycling and camping in the Lake District.

Amnesty International - Best New Group (Runner Up) 2014.

Gemma Parker (year 12) and Paavan Bansel (year 13) selected to be part of the the RA A Level Summer Exhibition Online 2016 organised by The royal Academy of Arts. https://www.royalacademy.org.uk/exhibition/a-level-exhibition-online-2016
TV Documentary
Three of our girls took part in the 'Doctors of the Future' programme exploring how the doctors of the future are developing.
Work Experience
Barclays Life Skills Work Experience placements at Canary Wharf

Capco Work Experience Programme- One week based in the City

Snaresbrook Crown Court 'Q & A with a Judge'
Team-Building events
Team-building event at Stubbers Activity Centre for our Senior Prefects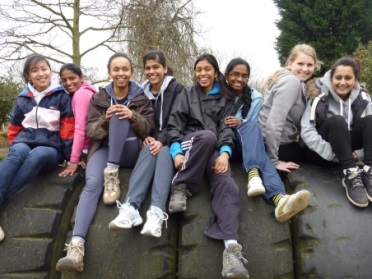 Summer schools
Bartlett Summer School – a 10 day creative and conceptual experience at the Bartlett School of Architecture, UCL.

UNIQ Summer school

Half term and Summer holiday placements abroad

Sutton Trust American Summer School - Year 12 student to MIT Summer 2015
Wider Reading